MY STORY
Raised in Missouri, I come from a long line of creative women. My great grandmother made beautiful embroidered wall hangings, my dad's mom made sweet Raggedy Ann dolls, my mom's mom had a ceramic studio and taught herself how to watercolor. I remember watching my mom teach herself to paint in our kitchen, draw posters for my school and her family members' musical bands. She made amazing portraits of our family out of pastels and she reminisced about sculpting clay in high school. Ultimately she used this creativity to invent the texture product that I use in my original paintings called Wood Icing.
In all of my life, I don't remember a time when I wasn't creating. I went to University of Missouri - Columbia for a fine art degree and an art education degree. After college, I taught middle and high school students for six years. While having babies, I decided to start a mural business and then finally began creating abstract paintings to sell. I think I thought it was somehow cheating life if I loved something that much and could make money doing it. I showed my work in every coffee house, bar and group show I could find for those first few years. Over time, I participated in art fairs, ran an art gallery/studio with my mom, I exhibited my work in University Exhibits and now I have work hanging in more private and corporate collections than I can count.
It has become so clear to me that I can't stop creating. I gave it some serious thought during some slow income times, but this is it for me. I need to do this for me and for the world. It is important. Now I know that while it is imperative that I make this creative life profitable, what is more important is that I need to share this creativity. As a fairly shy person, this is how I connect with the world. I would love to think that my art connects people to each other with one common goal; TO SPREAD JOY.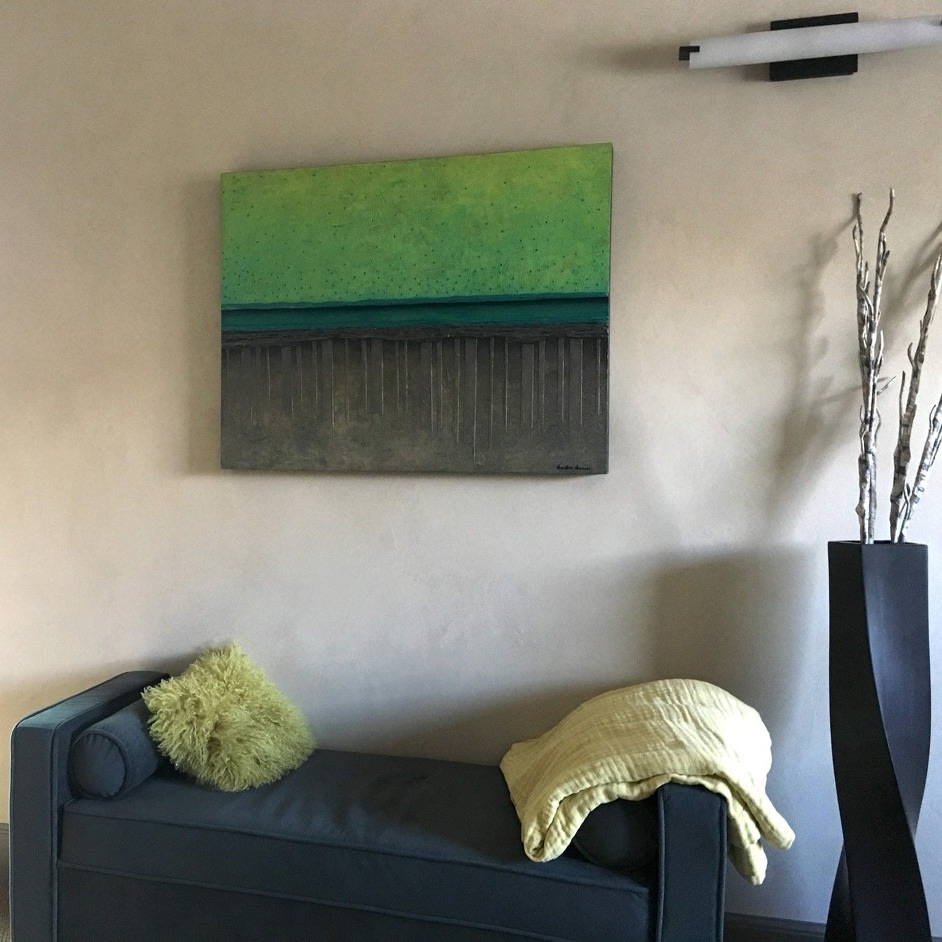 It is really beautiful. Love the colors and textures. Turned out amazing! I love having it in my line of sight from one of my favorite lounge spots in the house (my bed :). I keep looking up at it and it makes me very happy! Delightfully Happy! It changes when the light in the room changes - the texture really pops out and shadows. So cool. I love having this painting in my room/my life. I look at it so much and it brings me such joy.
by Francesca P.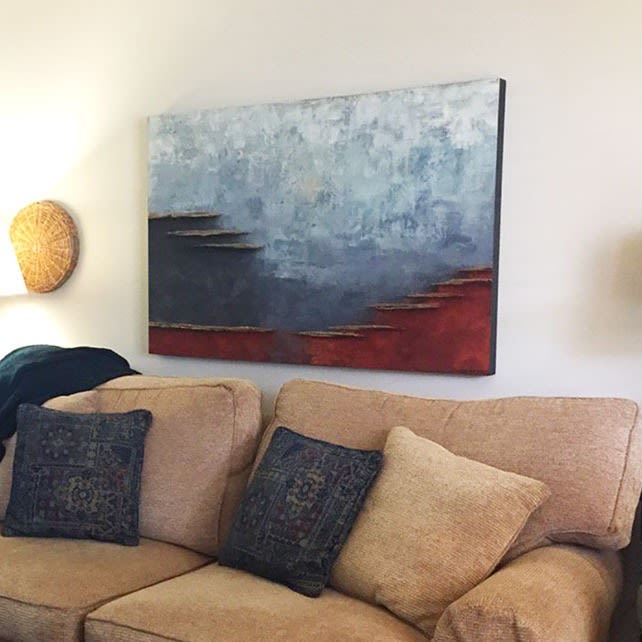 We bought a piece of art at the Dogwood Festival in Atlanta this weekend by Heather Haymart and we love it!
by Allison B.
I have had the pleasure of collecting and enjoying Heather's work for over 5 years. Heather's work has helped inspire, celebrate, commemorate, reflect and transcend challenging times while providing me with a sense of hope, peace and compassion. Thank You Heather for the love you have brought into my home. I enjoy looking at your work from various places in my home daily.
by John D
ON THE ART OF HEATHER HAYMART
WHAT AN ARTIST SEES
A poem about the painting: "Free Will".
Skeptics question the concept. Belief
flickers, may be extinguished in the
downcast or whenever resolve dwindles.
Still, look at these brilliant shadings
of red and blue and green, of yellow
and orange, the pensive focal point of white,
a harmonious composition lifting you up
to defy the dust of years, the ennui
that drains the mind of the truth that
your life still matters. You inhabit
the same world the artist contemplates,
where the gift of light travels fast and far
to photoreceptors in our eyes, its
energy translated here, reborn,
in the inspired choices of a painter.
Sustaining Creation-- and your life.
by
STEPHEN GRANZYK